Kanye West Gives Surprise Performance In Uganda, Previews New Music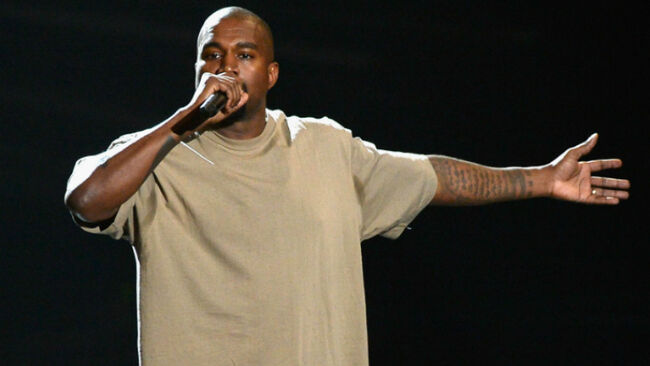 Kanye West wants the world to know, he really is making music in Uganda.
On Sunday (October 14), Ye took to Twitter to give his fans a surprise performance/ sneak peek at his new music live from the African country. As fans know, Ye went to Uganda to continue recording his upcoming album, Yandhi, since he decided to change the original September release date.
In the video, Kanye is first shown rapping on a couch while wrapped in the Uganda flag. "Relax your mind. Let your conscious be free," he rapped into a microphone, quoting a line from EPMD's single "You Gots To Chill." "No matter what they say. I'ma still be me. We free. We free..." Ye then moved to head outside, but not before telling the DJ, who stopped the music once he got up, "Don't stop the music unless I say stop the music...turn that music back on, OK? Turn it up. Turn it loud."
Once outside, Kanye continued to rap "Relax your mind. Let your conscious be free," adding, "I should go ahead throw a concert we made it all the way to Uganda." Ye continued to freestyle while calling upon his wife Kim Kardashian to also capture the moment on video.
After spitting a few bars outside, Ye returned inside the dome structure and threatened to take his "Make America Great Again" hat out. "If ya'll f**k with me too much, the hat's coming out," he told the camera. "Anytime y'all f**k with me, I got my superpower, the hat gonna come out. Y'all don't wanna see the hat, don't f**k with me." As fans know, Ye met with Donald Trump at the White House last week, just before heading to Uganda, where he went on a ten-minute speech, praising the President and offering his ideas to "better" the country.
Hours after arriving in Uganda on Saturday (October 13), the "I Love It" rapper took to Twitter, which he deactivated days prior, to discuss a range of ways to "unprogram" our minds — his most stressed idea being that individuals stop believing the "lies" of social media.
"I just wanna talk about mind control," he began. "You know when people try to influence you through social media and try to tell you what to do, or if people post something that's positive on Instagram it gets taken down if it's not part of a bigger agenda. That's, like, mind control...That's the poison that's happening with social media."
Photo: Getty Images