Pete Davidson Spoke About A Potential Ariana Grande Breakup Weeks Ago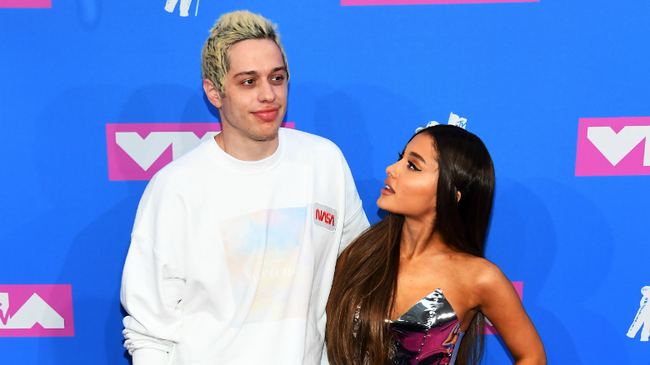 While word continues to spread that Ariana Grande and Pete Davidson have called off their engagement, folks keep looking for clues leading up to the prompt split. Besides a covered up tattoo and the obvious Mac Miller death, some have decided to point their attention to the Season 44 premiere of Saturday Night Live, which aired on September 29th.
Just a few weeks back, Davidson sat down with Colin Jost during the "Weekend Update" skit to casually talk about his engagement and, yes, that included a mention of a potential breakup between the pair. "You know, I don't even get royalties for that 'Pete Davidson' song?," Pete told the crowd, referencing the song on Sweetener that is titled after him. "Like, if we break up, and we won't — we will — but we won't. I'm kidding. But like in ten years if God forbid that ever happened, there will be a song called 'Pete Davidson' like playing in speakers at K-Mart and I'll be working there."
TMZ broke the news on Sunday afternoon (October 14), reporting that the pair has acknowledged it was not the right time for their relationship to head in that direction. As per the report, they still have love for one another, but romance is just not in the cards. Meanwhile, another source has revealed that Grande has been "in an incredibly dark place" ever since her ex-boyfriend's suspected overdose in September, implying Miller's death still has her in mourning. Grande ended her two-year relationship with the rapper in May, suggesting his substance abuse as the reason for their unfortunate breakup.