Brad Pitt And Leonardo DiCaprio Rave About Luke Perry: 'He Was An Icon'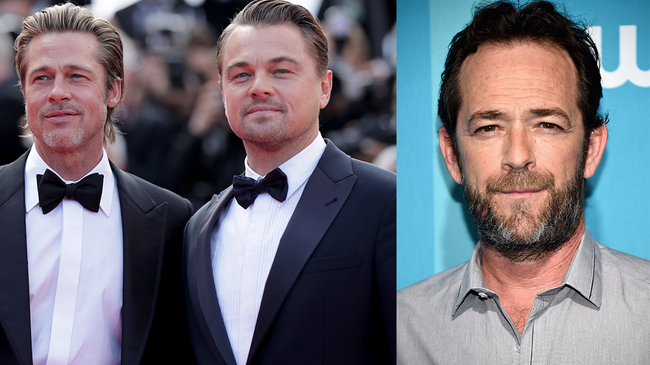 Even two of Hollywood's most famous actors got starstruck around Luke Perry. Since the Riverdale star passed away suddenly at the age of 52, there's been an outpouring of lovely stories about Perry from his co-stars, friends, and fans. Now Brad Pitt and Leonardo DiCaprio are chiming in with their own heartwarming stories about working with Perry on the set of their new film Once Upon a Time in Hollywood.
While chatting with Esquire, DiCaprio and Pitt raved about working with Perry. DiCaprio recalled the first time he saw Perry on set, saying he had a "butterfly moment of like, 'Oh my God, that's Luke Perry over there!'"
Pitt had the exact same reaction, chiming in with: "'That's f—ing Luke Perry!' We were like kids in the candy shop because I remember going to the studios and [Beverly Hills, 90210] was going on, and he was that icon of coolness for us as teenagers," he explained. "It was this strange burst of excitement that I had, to be able to act with him. Man, he was so incredibly humble and amazing and absolutely committed. He couldn't have been a more friendly, wonderful guy to spend time with. I got to sit down and have some wonderful conversations with him. It was really special."
Though Perry sadly passed away before the film's premiere, his son Jack Perry has spoken out about how excited he was to work with the likes of Pitt, DiCaprio, and director Quentin Tarantino. "My dad was so excited about that," Jack said. "That kind of reinvigorated him and reenergized him. He said, 'If I never work again, I'm happy with this.'"
Once Upon a Time in Hollywood premieres on July 26. Will you be popping into the theater to catch Perry, DiCaprio, and Pitt all together in one film?
Photo: Getty