Quentin Tarantino & Uma Thurman Are Considering 'Kill Bill 3'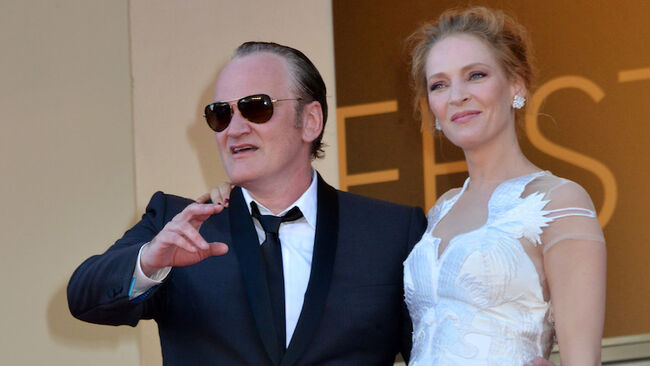 Beatrix Kiddo may finally be making the comeback we've been waiting for!
Quentin Tarantino and Uma Thurman have apparently been discussing the possibility of bringing Kill Bill Vol. 3 to life, according to the film director's latest remarks on the concept. Tarantino teased the prospect during his appearance on an MTV podcast show while promoting his current and ninth film, Once Upon a Time in Hollywood.
"Me and Uma have talked about it recently, frankly, to tell you the truth," Tarantino said on the show. "I have thought about it a little further. We were talking about it literally last week. If any of my movies were going to spring from my other movies, it would be a third Kill Bill."
Kill Bill has had only two installments — the first debuted in 2003, its sequel in 2004 — and both featured Thurman playing the starring role of "The Bride," or Black Mamba, if you're a real fan of the franchise. Thurman's protagonist leaves a bloodtrail in her quest for deadly vengeance against the Deadly Viper Assassination Squad in the first flick, with the follow-up finding Beatrix kill her husband, who plotted her assassination, the titular Bill, with the fatal Five Point Palm Exploding Heart Technique.
As far as premises for the potential trilogy, Tarantino has previously spoken about concerning the third film on Nikkia Bell, the daughter of Vernita Green (portrayed by Vivica Fox), who was killed by Beatrix in the first volume, seeking vengeance. While nothing has yet come of the possible production, what with Tarantino's assumed retirement from cinema after creating his tenth movie, the demand for Kill Bill 3 is very much alive.
In fact, The Hate U Give's Amandla Stenberg previously said it would be a "dream" to carry the Kill Bill torch as Vernita's daughter in the potential project.
Keep those fingers crossed!
Photo: Getty Images